How to arrive from the airport to the resort?
Located just 30 minutes from Los Cabos International Airport and 55 minutes from Cabo San Lucas International Airport, Garza Blanca Resort & Spa is a luxurious modern oasis in Los Cabos that offers unforgettable vacations in the most stunning location in Baja California Sur.
Nearby points of interests from Garza Blanca Los Cabos




A privileged location
The lively metropolitan city of Cabo San Lucas is just a 20-minute drive from Garza Blanca Resort, and the more relaxed and artsy town of San Jose del Cabo is just a 15-minute drive in the opposite direction from the resort.
Boasting the best of both worlds, the quaint charm of a small Mexican town, and the grandeur of one of the most visited destinations in the world, Los Cabos is a haven for travelers looking for a unique vacation experience. The desert landscape, sweeping vistas, and supernal beauty make it the go-to spot for tourists from all over the world, but it's the laid-back vibe, exquisite culinary scene, and friendly embrace from the locals that keeps them coming back time and time again.

San Jose del Cabo vs Cabo San Lucas
Although the two entities that make up the destination of Los Cabos are only 22 miles apart, they couldn't be more distinct, each offering a unique piece of paradise for visitors looking for a unique vacation experience.
In sleepy San Jose del Cabo, travelers can expect an authentic Mexican experience with colorful colonial architecture, quaint boutique-style shopping, and a multitude of art galleries that show off the incredible talents of local and national artists. The much older town has a more serene vibe, trading in the party scene and crowds of its western neighbor for late-night strolls and romantic escapes that appeal to a different type of crowd.


In Cabo San Lucas, the more popular of the two, visitors will find entertainment of all sorts. From riding camels or ATVs through the desert and tequila tastings to high-end shops and world-class restaurants, the city has something for everyone. The town hugs the shores of a small inlet where whale watching and snorkeling adventures are all part of the day. Cabo San Lucas is a city that never sleeps, so staying entertained will never be an issue.

Flights to Los Cabos, Mexico
Los Angeles, California (2 hrs. 20 min. approx.)
Houston, Texas (2 hrs. 40 min. approx.)
Dallas, Texas (2 hrs. 50 min. approx.)
San Francisco, California (3 hrs. 05 min. approx.)
San Diego, California (2 hrs. 10 min. approx.)
Phoenix, Arizona (2 hrs. approx.)
The Cabo San Lucas Marina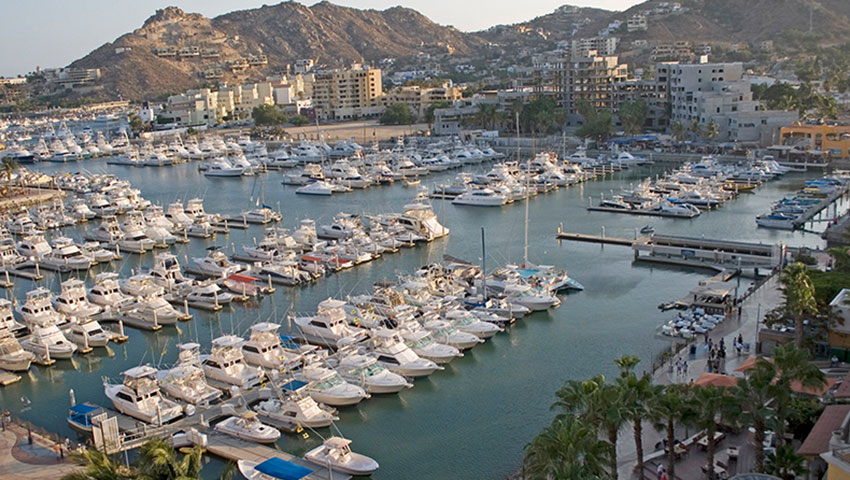 The Cabo San Lucas Marina is a lovely place for a walk, and most of the fishing and boating tours depart from the marina as well.
Medano Beach
Medano Beach is the closest beach to the Marina, and is one of the most popular beaches in the area. Medano beach offers water based activities such as jet skis, stand up paddleboarding, kayaking, parasailing and more. Boat tours to Lands End/El Arco and water taxis to Lover's Beach depart from Medano Beach.
Lover's Beach
Lover's Beach is more secluded and does not have services, but it's a nice place to relax and soak in the sun.
El Arco
El Arco is a natural arch-shaped rock formation that marks the very southernmost tip of the Baja California peninsula. This area is also known as Land's End. This is the most iconic natural formation in the area, and should definitely be seen by all tourists!
Lover's Beach
Lover's Beach is more secluded and does not have services, but it's a nice place to relax and soak in the sun.
Frequently Asked Questions