Weather in Cabo San Lucas
As one of the most recognized and highly sought-after destinations for a getaway in the sun, Los Cabos, Mexico delivers some of the finest vacation weather anyone could ask for, no matter when you are planning your trip. Los Cabos is home to lovely warm daytime temperatures and cool evenings, plus ocean waters warm enough to enjoy all year round. Situated on the southern tip of the Baja peninsula and bordered by both the Pacific Ocean and the Sea of Cortez, Cabo's desert climate is not as humid as several other Mexican destinations, making it a comfortable place to visit any time of the year.
Forget the Weather Forecast
Check out what the Los Cabos weather is like right now with our live cam.
A Week of Deep Discounts!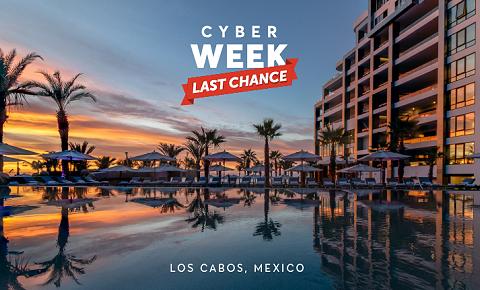 More than 350 Days of Sunshine

---

One of the best aspects of the weather in Los Cabos has to offer is an average of more than 350 days of sunshine per year, nearly guaranteeing you can bask in the sun without interruption every day of your vacation if you'd like. There is plentiful sunshine and lots of daylight throughout the year, with roughly 11 hours of daylight in the winter and around 13 hours of daylight in the summer, making it the perfect spot for sun worshippers anytime, and snowbirds or anyone dealing with seasonal affective disorder (SAD) during the winter months, so they can soak up some natural, sun-derived Vitamin D.

Temperatures in Los Cabos

---

Los Cabos is fortunate to experience warm temperatures throughout the entire year, with highs typically ranging between 82°F (28°C) and 91°F (33°C) and evenings cooling down between 55°F (13°C) and 75°F (24°C). Of course, the ocean isn't left out of the blissful temperature zone, with sea temperatures varying between 72°F (22°C) and 82°F (28°C), depending on the time of year.

Few rainy days in Los Cabos

---

Naturally, every traveler wonders if they will encounter rain on their vacation. Just like most places on earth, rain is possible any day of the year in Los Cabos, but pretty unlikely as there is an average of just 50 rainfall days per year! When considering the weather in Los Cabos, the months from May through October typically encounter the majority of the rain, and if you do happen to experience precipitation, it is likely to be light to moderate rain showers and occasional thunderstorms.
Best price

guaranteed

Reserve

Hotel + Flights

TAFER

Rewards

Deal with

the hotel directly

No extra

cost or commissions