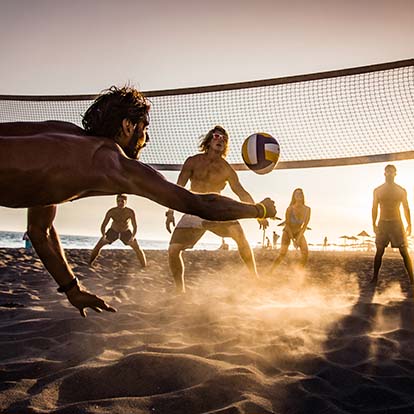 Beach Volleyball
Beach & Water Activities
The frequency and duration of the activities are subject to change without notice. Please refer to Front Desk, Concierge, or Pool Concierge to schedule your favorite activity during your stay.
45 minutes
Volleyball Court on the beach
4 times a week
Free
---
If you are a fan of beach volleyball, come to join us for a friendly match hosted by the activities team. If it has been a while since you have played this spectacular sport, they'll show you techniques for serving, passing, and hitting the ball and explain the rules of the game.
Playing on Garza Blanca's soft sand beach with spectacular views of the ocean is a great way to get some exercise while having fun in the sun and you may make some new friends while you are at it. If you would like to play at your leisure, or with your own group of friends, the volleyball nets stay up for most of the day.
Must be 15 years or older to participate. For children under 15 years old, volleyball workshops are available once a week.