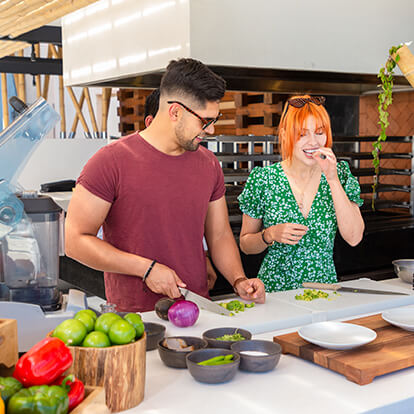 Culinary Experience for Foodies
Gourmet Activities
The frequency and duration of the activities are subject to change without notice. Please refer to Front Desk, Concierge, or Pool Concierge to schedule your favorite activity during your stay.
1 Hour
Robata Bar
3 times a week
$25 USD per person
---
Garza Blanca Los Cabos is a resort that caters to foodies and you will love the weekly culinary experiences offered! The culinary experiences are workshops led by the Chef Patrons of Garza Blanca´s three signature restaurants: Hiroshi, Blanca Blue, and Bocados Steak House. The cooking classes are held at the Robata Bar every Monday, Wednesday, and Friday at 3:00 pm, where the chefs will teach you how to prepare a signature dish from each restaurant, which is paired with a beverage tasting. Advance reservations are required.
Mondays - Hiroshi Class & Sake Tasting
Led by Chef Carlos Leyva, the menu will rotate each week between Wonton Tostadas, Spicy Hamachi Temaki, and Salmon Skin Rolls. The dish will be paired with sake.
Wednesdays - BocaDos Class & Wine Tasting

Chef Alvaro Blancas De Ita's cooking master class alternates each week between Short Rib and Rib Eye Street Tacos, Mussels Alla Sorrentina, and Pacific Salmon. Sample the dish while enjoying a wine tasting.
Fridays - Blanca Blue Class & Tequila Tasting
Chef Humberto Aguilar is Blanca Blue´s talented chef patron. The recipes he teaches alternate weekly between Guacamole, Tuna Tostadas, and Pork Tacos, which are paired with a tequila tasting.