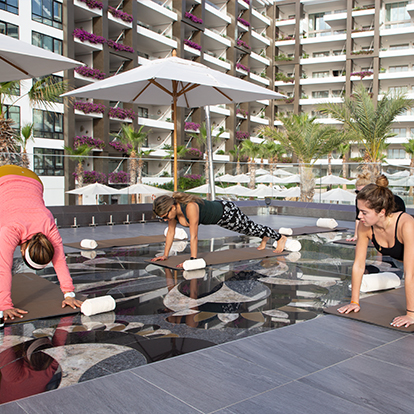 Pilates
Fitness Activities
The frequency and duration of the activities are subject to change without notice. Please refer to Front Desk, Concierge, or Pool Concierge to schedule your favorite activity during your stay.
At the Orange Tree
Daily
Free
---
Pilates fitness classes are available daily at Garza Blanca Los Cabos. Pilates fitness is a great way to stay fit and get some exercise while on vacation at our Garza Blanca 5-star all-inclusive resort in Los Cabos. Pilates is a form of exercise which concentrates on strengthening the body with an emphasis on core strength. Pilates has many health benefits which include improving general fitness and overall well-being. Similar to Yoga, it concentrates on posture, balance and flexibility.
If you enjoy yoga, then you will also enjoy the great workout you will get from Pilates, and it's fun! The Pilates instructor will guide you throughout the class and adapt the exercises to your level of fitness.