Wellness
A Wellness Retreat to Renew, Refresh, and Restore
Have you ever seen the beautiful aquamarine sea that is lost in the distance, the sand so golden and fine that your toes sink into it, and a background that appears to have been painted by the best painters?
Well, that's Los Cabos.
If you want to enjoy a wellness vacation in paradise, your best option is Garza Blanca Resort & Spa Los Cabos. Our high-end, beachfront resort offers the most luxurious accommodation, the best gourmet restaurants to delight all tastes, and world-class facilities, all complemented by first-rate service. The staff are incredible, the spaces are magical, the sea and sand are the most beautiful you have ever seen, and you will experience the utmost luxury, pampering, and comfort that guarantees that you will want to stay forever.
We invite you to experience a healthy getaway in Los Cabos and take advantage of our new Wellness Package designed for you to enjoy a unique wellness retreat in paradise, applicable to reservations in the One Bedroom Ocean View suite category, based on a minimum 3-night stay.
Enjoy the ultimate restorative vacation to help you embrace a new healthy lifestyle. Just bring yourself and your best companion. We will take care of the rest!
And we have great news for you. Because August is National Wellness Month, we created something special! Garza Blanca Los Cabos is excited to present to you:
Best Rate Guarantee
$ USD
Other websites: $ USD
Talk to our Travel Specialist to get the best rate
Do you want to live an experience that you will love?
That will eliminate your stress, rejuvenate you, and connect you with nature and with your traveling companion?
The Wellness Package offers you all that and more. Enjoy an invigorating retreat with everything you need to be renewed in body, spirit, and mind.
At Garza Blanca, we want to be part of your health and wellness journey, and we will provide you with all the tools so you can slow down and relax in today's hurry-up world.
Booking Window: August 20 - October 31, 2021
Travel Window: August 20 - December 20, 2021
Package Inclusions:
3-night all-inclusive stay in a One Bedroom Ocean View Suite
Wellness menu options in all our restaurants
International Open Bar
24-hour room service
Welcome Amenity
Fruit basket
Wellness breakfast brought to your suite (once per stay)
A wellness minibar includes soft drinks, a daily jar of fresh juice of your preference, a daily jar of herb or fruit-infused water, and healthy snacks
Moonlight yoga class (once per stay)
Private roundtrip airport transfer
E-Bike Tour
Unlimited access to the hydrotherapy circuit during your stay (advance reservations are required)
One 90-minute Signature Balancing Experience per person at Spa Imagine
It's an incredible deal!
Are you ready to escape and relax?
Spa Treatments
Reimagined Pampering in Paradise
Spa Imagine
Enjoy unique aromas, textures, sensations, and the touch of luxury that distinguishes us from everyone else. Our spa managers have worked on this exceptional program to take care of our guests' needs. At the same time, we want to raise awareness about one of the most popular trends of today: wellness lifestyles.
Are you ready for the best wellness experience in paradise?
$ USD
Per person, per night. Rates are based on our
One Bedroom Ocean View
.
View Terms and Conditions.
Spa Innovations and Technology
NEW
We have implemented technological innovations to take care of your skin to maximize and perfect our guests' health and well-being. Our goals are to provide the highest standard of luxury and constant improvement, always seeking out new techniques, products, and technology to improve experiences. In our spas, all our guests will be able to enjoy two new technologies including the HydraFacial and Binary Premium.
PREMIUM SERVICES
HydraFacial
PREMIUM SERVICES
Binary Premium by Ross
*Please note that the HydraFacial and Binary Premium have an extra cost and are not included in the Wellness Package.
HydraFacial
The HydraFacial offers a non-invasive treatment taking advantage of special patented technology and hydrating ingredients to improve overall appearance. The high-tech device uses three simple steps including cleansing, extraction and hydration, and fuse and protect. A special HydraPeel Tip is used to remove debris from pores and infuse your skin with hydrating serums.
The treatment helps to eliminate toxins, reduce fine lines and wrinkles, improve acne, and even tone. LED light therapy utilizes a combination of blue and red LED lights that work in conjunction to stimulate collagen and elastin and accelerate healing. The treatment finishes with a rehydrating face mask.
Binary Premium by Ross
Binary Premium is a new non-invasive technology procedure for the face and body that works with capacitive and resistive technology to generate biostimulation and electrostimulation with magnetic currents to promote cell regeneration and recovery. Its benefits include anti-aging, oxygenation, reduction of cellulite, skin firming, and pain relief for muscle aches. Treatments also promote wellness and relaxation.
Both technologies will be available at Spa Imagine in Los Cabos and Puerto Vallarta in August 2021, and in Cancun this fall.
Monthly Spa Program
Well-being, health, respect, and self-love are our pillars. We continuously create programs to improve the quality of life of our guests so when they get home, they have all the energy and will to achieve their goals.
There are a few energy and well-being activities that may vary each month, such as:
Workouts
Janzu
Cacao ceremony
Full moon activities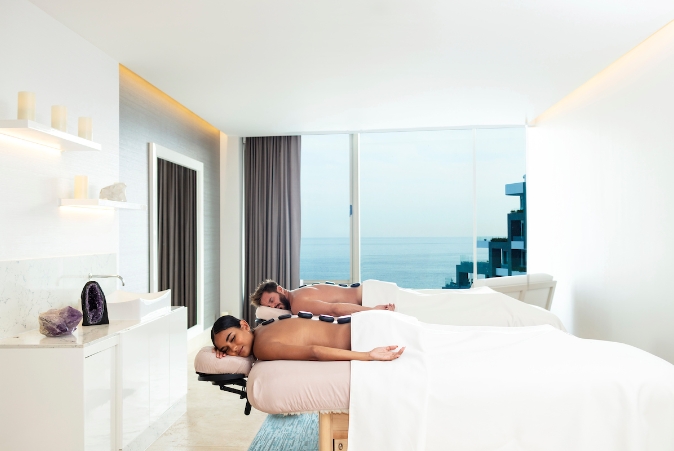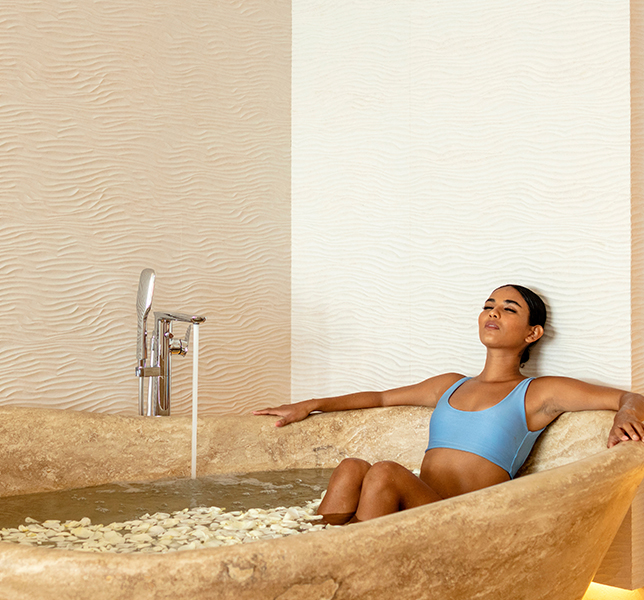 Our Exclusive Masterclass
Our Spa Managers are relaxation experts and they have created a powerful masterclass that uses aromatherapy to teach our guests how to create their own natural products that provide health benefits. The essential oils used during the workshops are of the best quality and are 100% pure and ingestible.
Within these workshops, our guests will have the opportunity to create products such as:
Sanitizing Spray
Antibacterial hand sanitizer gel
Toothpaste
Decontracting Gel
Wellness Beverages
As part of the Wellness Package, during breakfast guests have access to an energizing selection of drinks and smoothies prepared with all natural ingredients.
The menu features color-coded symbols for easy identification of the incredible health benefits each drink provides including Immune Support, Heart Health, Beauty, Cancer Prevention, Longevity, and Detoxification.
The smoothies available include the Berry Sip made with blackberries, apples, blueberries, and almond milk; the Wake-Up with honey, pineapple, and, green herb infusion; and the Tropical Trail with mango, bananas, passion fruit puree, and coconut milk.
All our smoothies provide an energetic shot to the system, so you can start your day off right.
Read what others have to say

Get excited about your stay!
"I stayed for the 1st time at Garza Blanca Los Cabos on August 2021 alone. I am a Tafer Resort member since June 2019. The resort is a hybrid of Garza Blanca and Mousai in Puerto Va..."

- jadahalle206

from tripadvisor

"Alan was great! He is so fun and energetic. He even taught my mom how to swim this week! And he was a fantastic teammate during our Volleyball matches! The customer service here at..."

- nikhitxp

from tripadvisor

"Alan took the time to teach my aunt how to swim and was very patient and helpful! Carlos was incredible and quick in his service! Thank you all for an amazing time!!!! Staff at Bla..."

- 371shivanip

from tripadvisor

"She is the best friends I playing volleyball pool she is the best girl I love she is the best thank you Garza Blanca see you next year the pool service is great Jorge feel happy ..."

- Exploration816178

from tripadvisor

"We loved the staff!! They were outstanding..... Alan, Hector, Vicecent, David and Fabian!!The service was superb. The bike ride, yoga and water aerobics with Alan was so fun!!! He ..."

- Tourist37150409562

from tripadvisor
---
Terms and conditions
All-Inclusive rates are per person do not include taxes and/or service fees (29%) and are based on quadruple occupancy. Government-issued photo identification and a credit card or cash deposit are required at check-in for incidental charges. Rates are based on our Radiant One Bedroom Suite .
Valid booking from now to 09/27/2021. Travel dates: from 08/31/2021 through 12/20/2021. Minimum stay: 3 nights.
Not valid for groups or weddings.
4. The Hotel + Flight package is excluded from this offer.
5. Not valid for groups or weddings.
Share this!