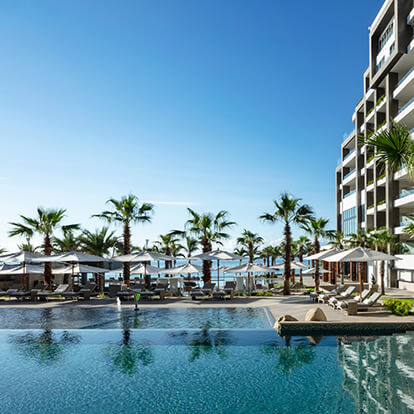 Request A Quote
Start planning your dream Los Cabos vacation today! Just select your dates of travel and you will get an instant quote.
Searching the best rates for you... Please, do not reload this page.
We have not found any availability
Please try again with other dates.
Resort Amenities
8 Outdoor Swimming Pools

Guests will enjoy plenty of water fun at one of 8 sparkling outdoor swimming pools including an adults only Rooftop infinity pool, kids pool, swim up bar, and more.

Kids Club

Children will have fabulous fun in our kids entertainment zone featuring activities, crafts, and video games to keep your youngsters creatively occupied for hours.

Gourmet Culinary Experiences

Enjoy sumptuous bites at the Rooftop and Swim Up Bar during the day. For lunch, our Beach Raw Bar is the place to be. Dine at 3 on-site Gourmet Restaurants featuring innovative Mexican cuisine, exciting Japanese fusion cuisine, and succulent dry-aged steaks.

Fitness facilities

Step into our wellness zone and get inspired to workout even while on vacation. Our gym offers a variety of strength training and state-of-the-art cardio equipment all daring you to be great!
In-Room Amenities
Daily Housekeeping Service

Our Housekeeping team ensures your room is thoroughly cleaned and sanitized with daily housekeeping and turndown service.

Wireless Internet

Stay connected to the world outside your luxurious haven with high-speed wireless internet access available throughout the property.

Air Conditioning and Ceiling Fans

Set your AC setting to stay as cool as is comfortable for you. Celling fans effectively circulate fresh air throughout your suite.

Premium Television Channels

Watch your favorite programs, available in a great selection of premium channels.
---
Guest Reviews & Experiences
IN THEIR OWN WORDS
Our reviews and testimonials section is based on the genuine experiences of happy travelers. We hope their first-hand experience will help you decide to book a stay at our world-class resort in Los Cabos.
Customer Service and Food Excellence
147andyv
From tripadvisor
Garza Blanca Cabo is PERFECTION!
Rosen H
From tripadvisor
Edwing
512anir
From tripadvisor
Vacation
Curiosity783584
From tripadvisor
Excellent service, amazing vacation
wendy_jade
From tripadvisor