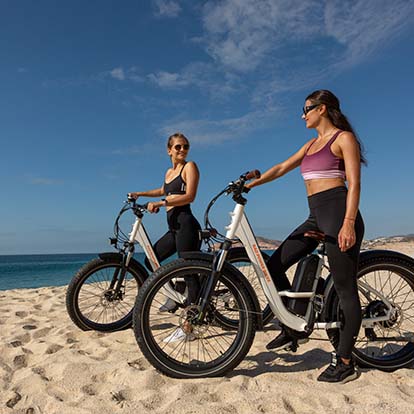 Electric Beach Bicycle Tour
Beach & Water Activities
The frequency and duration of the activities are subject to change without notice. Please refer to Front Desk, Concierge, or Pool Concierge to schedule your favorite activity during your stay.
45 minutes
Beach
Daily
Free
---
There are many cool things to do in Cabo and starting your morning with a fun electric beach bicycle tour is one of the best family activities in Cabo San Lucas you can do. With the glistening sea as your backdrop, enjoy the sun and take in the sites along the stunning coastline. This is a great and fun way to stay active outdoors during your stay at Garza Blanca Resort & Spa Los Cabos.
Your local tour guide will show you how to use the bicycle and take you to picturesque spots along the beach pointing out scenic and historical sites along the way.
The bike tour departs twice daily at 8:00 am and 9:00 am.