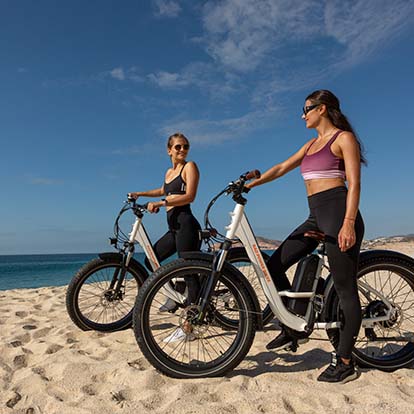 Electric Beach Bicycle Tour
Beach & Water Activities
The frequency and duration of the activities are subject to change without notice. Please refer to Front Desk, Concierge, or Pool Concierge to schedule your favorite activity during your stay.
45 minutes
Beach
Daily
Free
---
Start your morning with an incredible bike ride on the beach with the glistening Pacific Ocean as your scenic backdrop. These specialty bikes have wide wheels built for handling sand terrain, so you can ride right next to the waves on a soft sand beach, and the best part is, the electric motor does all the work for you!
Our bicycle tour departs from the beach every morning at 8:00 am. You will have a tour guide who will show you how to use the bicycle and take you to picturesque spots along the beach. You will be provided with a helmet, safety vest, and bottle of water.