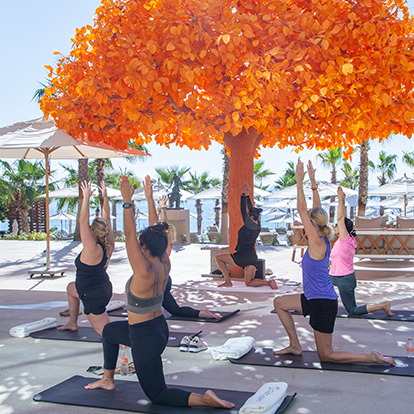 Stretching Class
Fitness Activities
The frequency and duration of the activities are subject to change without notice. Please refer to Front Desk, Concierge, or Pool Concierge to schedule your favorite activity during your stay.
30 minute
At the orange tree
Free
---
Take full advantage of your Los Cabos all-inclusive family vacation activities and join our 30-minute stretching classes to balance out the day.
Enjoy a guided stretching class to put your mind and body into full relaxation mode. This is a superb way to get your body flowing and awaken your mind at the start of the day with a positive mental outlook. The experienced instructor will lead you through a series of gentle movements to stretch your muscles, so you maintain your flexibility and build strength. You will feel energized and ready to enjoy the day.
As far as Los Cabos activities go, the stretching class is a fantastic gentle and relaxing activity that is great for guests of all ages.